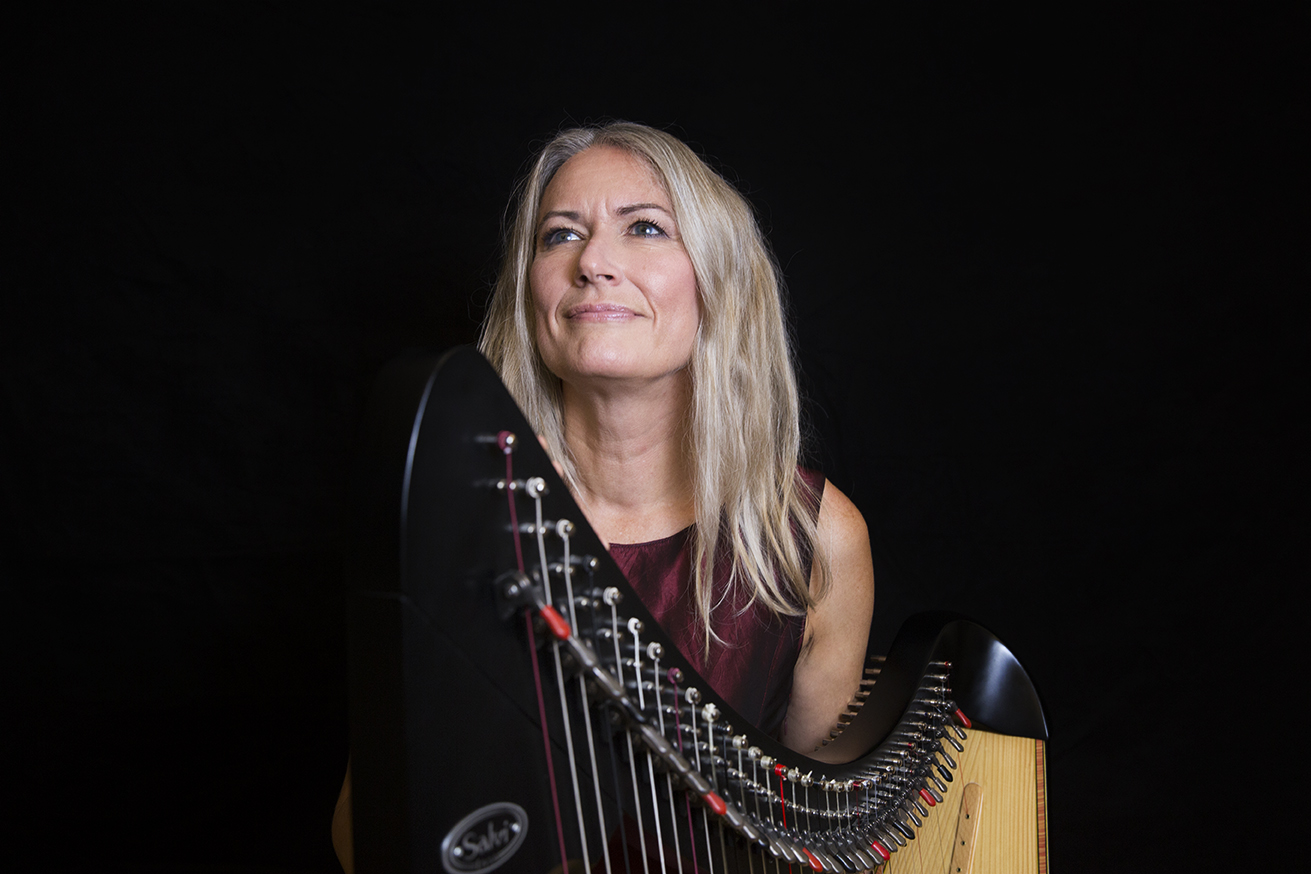 ---
About Trine Opsahl
Trine Opsahl is a Danish composer, harpist and therapeutic harp player. She composes and releases music for Celtic Harp and Cello.
Trine Opsahl has released four solo harp albums and three harp/cello duo albums with her daughter – cellist, composer and Josefine Opsahl.
Trine Opsahl's music has been awarded a ROUNDGLASS MUSIC AWARD FOR A BETTER WORLD 2018, three silver medal from Global Music Awards and has been nominated for a number of Zone Music Reporter awards in the USA.
Trine Opsahl is a pioneer of harp therapy in Denmark and works as a therapeutic harp player in two hospices, playing for the dying and their relatives. She is a Certified Therapeutic Harp Practitioner (CTHP), trained and certified within the International Harp Therapy Program.
---
Music
Trine Opsahl's music is melodic, harmonious, inspired by Nordic-Celtic folk tone, and ideally suited for therapeutic work and relaxation. You can read some reviews here.
Listen to selected tracks in the player below or listen to Trine´s playlists on Spotify.
Trine Opsahl has issued 7 albums. The latest album, "The Moon Stays Bright" was released in 2022. Read more about the albums here and listen to some of the new tracks.
I probably heard your songs on my Kim Robertson or Andreas Vollenweider or other New Age stations on my Pandora radio. Now I have your Pandora station playing all day in my Counseling office to relax my clients (and me!!!).
I treat clients for mental illnesses and relationship problems. I was so happy to read about your work helping people in Hospice. God is really blessing you and others through you!!!
Thanks again for being a beautiful lover of people in a way that you reach so many!

Michael Govan, psychotherapist and counselor, Troy, Michigan, USA
---
Trine's latest album: "The Moon Stays Bright"
Trine Opsahl's latest album was released in 2022. It carries 9 solo pieces for Celtic Harp and 3 pieces for harp/cello duo, all her own compositions. Some of the solo pieces are improvisations.
The album is available as a physical album and can be streamed or downloaded on Spotify, Apple Music, iTunes, Amazon Music etc.
The Moon Stays Bright is a collection of enchanting melodies that beckon you to follow the inner paths of spiritual adventure, whispering riddles in the dark that only your heart can answer. The tunes have a dreamy quality − not aimless, but full of guiding vision pouring from the wellspring of cosmic mysteries. Listening to them brings you back into a certainty that the healing magic of Life will always carry us through even the darkest nights of the soul. This collection is a musical expression of the pilgrimage of the Unknown, a quest illuminated by the gentle and loving light of universal wisdom. Thank you for yet another wondrous album, a gift of healing to us all!

Signe Urdskilde, September 2021
In the air, floating lighter than a sparrow feather.
The notes, the soft voice of your harp guiding my steps today.
Morning lights slowly dancing through my window.
Waking the day with your flowing touch to the strings, stirring my spirit today.
Thank you my Lady for a healing melody.

Your blessed unknown friend, Mitch, February 2022
---
Duo album "The Infinite between Us" released in January 2021
Trine Opsahl and her daughter Josefine Opsahl released a harp and cello duo album right in 2021. Order your physical copies here.
I just want to say thank you so much for another amazingly beautiful and enriching album. I heard it last night in meditation and totally flowed into it. The reinterpretations of some of my absolute favorite songs (especially Eternity in a Song, The Nameless, In a Grain of Sand and Lightly Dance into the Morning) are delightfully beautiful and the new melodies as well as the energy of the CD I perceive as uplifting and (like all the other albums) inviting to a deep confidence in Life. The light from the notes falls gently inside me and nourishes the strength that is growing more and more in me. So THANK YOU to you and your daughter for the beauty you are and give.

Signe Urdskilde about the new album, December 2020
Listen to selected tracks:
Events and Booking
Trine performs solo concerts often combined with talks about her work as a harp therapist.
She also performs with cellist Josefine Opsahl and storyteller Ellen Dahl-Bang.
You can learn more and send a booking request from here.
---
Awards
Trine Opsahl's music has won a number of awards, among these a Global Music Awars (Silver) for Outstanding Achievement with her album "The Moon Stays Bright".
In 2018 she won the Round Glass Music Award for a Better World for the track "Drifting on Silky Clouds" together with cellist Josefine Opsahl.
---
Harp Therapy
Trine Opsahl plays her harp music in two Danish hospices in the Copenhagen area.
Journalist Jonas Erboe Rasmussen wrote in an article about Trine's hospice work:
She sits up in bed. The resident. The two pillows fall from the neck to the loins. She gasps for breath. Inhales, exhales. Inhales, exhales, but slower.
She's dying now. Trine does not bat an eyelid. She continues to play.
Her eyes are closed, but she sees everything. Feels the atmosphere in the room, slows down the tempo of the music a bit. She knows she should not stop playing.

Jonas Erboe Rasmussen